Benefits for you and
your employees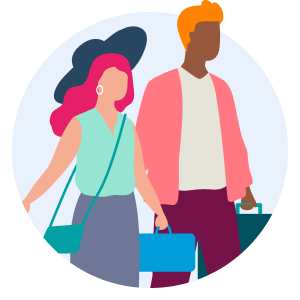 Every business needs to help its workers save for retirement. That's why Nest is set up the way it is – to make it as easy as possible to help provide for your employees' future.
It's as easy as possible
For you…
Setting up and administering a pension should take as little time as possible. You can set up and manage your workplace pension online, and carry out every process from there.
And for your employees…
Our self-service website and dashboard makes managing savings simpler. Your employees can review their account, make changes, and top up their pot whenever they choose.
"I find Nest really easy to use. I learned more about pensions just by logging in to my account and clicking around the different tabs available - it's really intuitive and tells you more and more as you delve a bit deeper."
Nest member
Just the right amount of choice and flexibility
For you…
There's enough choice to cater for a diverse workforce, but not so much that it's overwhelming. You can use us as your sole pension scheme or alongside other providers for some of your workers. And you've got the choice to manage your account yourself, or use an accountant or payroll provider to manage it for you.
And for your employees…
We move at each employee's individual pace. As their circumstances change, their pension can change along with them. Our flagship Nest Retirement Date Funds are tailored to the age when each employee plans to retire. Or, if they'd prefer to choose their own funds, they can do just that. Either way, we'll manage your employees' investments through the decades they save with us – and even help them with flexible options as they start to think about retiring and taking their money.
It's great value
For you…
We're a not-for-profit pension scheme, and that allows us to remain free for employers - no matter what size. Plus, our award-winning approach to investment, our large scale, and our low charges mean more of your employees' money gets invested – so there's more to grow. All of this means every penny and every minute you put in is worth it.
And for your employees…
Being not-for-profit means we keep charges low. When your employees pay less to invest, more of their money gets invested. And we don't charge anything when employees transfer other pots to us, to consolidate their savings.
Plenty of support
For you…
When your workers need you to explain their rights, enrolment and contribution choices, it can be hard to know what to say – especially when you're legally required to keep your workers informed. We've created tools, templates and resources so you have everything you need to keep them in the know. We're also constantly looking to our employer community to inform what we do – so we can stay focused on what you need.
Plus, our dedicated team is on hand – at the end of the phone or online – to solve any problems you have.
And for your employees…
We've done a lot of research into what the average person understands about pensions. And we spend a lot of time talking to our members and getting insight from our member community. We use all of these learnings to engage your employees in a way that supports them through their savings journey, and empowers them to take charge of their financial future.
"Nest listens and takes action. You're proactive. That for me is why you stand out as a pension provider."
Large employer who's chosen Nest
Our goal is to deliver a bigger pension in a better world
For you…
With Nest, you can give your employees a high-performing scheme that they'll appreciate – and feel good about. As part of our approach to responsible investment, we encourage companies we invest in to follow best practice when it comes to how they treat their workers, how safe their workplaces are, and how much carbon their company emits. Companies that do well in these areas are more likely to make money in the long term. So your employees' money isn't just helping to secure their future – it's helping to secure everybody's.
And for your employees…
We invest billions. That kind of scale means we can make our members' voices heard in boardrooms around the world. It's how we help improve both the sustainability and the profitability of the companies your employees invest in. It's how we make sure their money is working hard – for their future and for the future world they'll retire into.
We're open to everyone
We're open to every business in the UK, big or small, and to all their workers. Since we launched in 2008, over 900,000 businesses around the country have chosen Nest as their workplace pension provider. We're suitable for all your workers, whether they've got one pound in their account or one million.
"What I love about Nest is that you're there for everyone."
Small business owner who's chosen Nest
Open your Nest account
When you choose Nest, you're doing the best you can for the people who work with you. All with as little effort as possible.