What's the minimum contribution?
The minimum contribution set by the government that you and your employer collectively pay into your Nest pension is 8% of your qualifying earnings. That's the part of your salary which your contributions are calculated from. For the 2021/22 tax year, you'll pay contributions on any earnings between £6,240 and £50,270. Some employers may use a different method to calculate contributions, so the exact amount you'll pay can vary from company to company.
Your employee contribution is 5% of your qualifying earnings. This works out to be only around 4% of your take-home pay as you get tax relief from the government every time you contribute, if you're eligible.
The minimum contribution level doesn't apply if you're self-employed or don't reach the qualifying earnings threshold.
Learn more on how minimum contributions are worked out here.
Is there a maximum contribution?
There are no restrictions on how much you save into your Nest pension pot, so you're free to contribute as much as you like. However, you might have to pay additional tax in the following circumstances:
If your contributions from all sources go over the annual allowance set by the government.
You start taking money from one of your pots and your contributions from all sources go over the lower annual allowance. This is known as the money purchase annual allowance.
If the total of all your pension pots is worth more than the lifetime allowance set by the government.
It's a good idea to be aware of these limits even though the majority of members will never go over them.
Can I make additional contributions?
You can choose to pay more on top of the regular contributions you and your employer make into your pension pot.
By logging in to your account, you can:
make a single one-off contribution
set up regular additional contributions to be collected by Direct Debit
We've also made it easy for anyone to make an additional contribution into someone else's Nest pension pot.
All contributions paid into your pot using these methods are eligible for tax relief too, so it's a great way to save even more for your retirement.
What happens to my contributions?
We invest all the contributions made into your pension pot to try and grow your savings for the future. Once contributions have been invested, you'll be able to see them in your Nest account. If you're eligible for tax relief, we'll then claim the 20% basic rate of tax on the contributions made by you, and automatically add this to your pot.
Read more about how we manage your money and how tax relief works.
What do Nest charge?
We apply two small charges for managing your pension pot.
We take 1.8% of the money going into your pot, known as a contribution charge. For example, if £25 was being added to your pot each month we'd take a contribution charge of 45p.
Example of a contribution charge
We also take 0.3% of the value of your retirement pot over the year. This is known as an annual management charge. So if your total retirement pot is worth £5,000, we'd charge £15 over the year.
Example of an annual management charge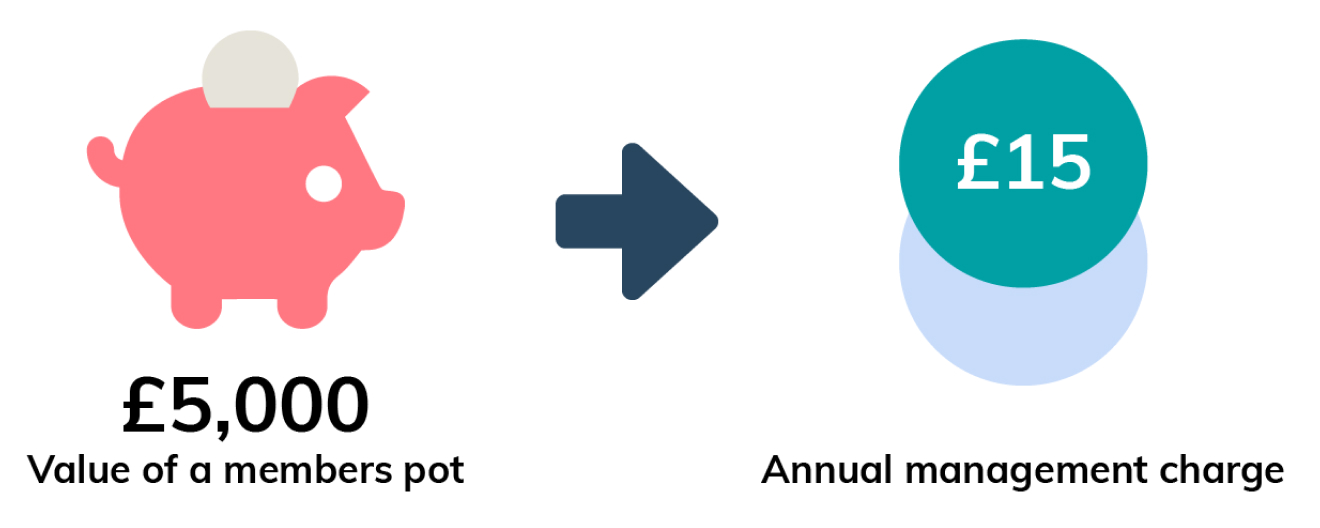 You can see how much has gone into your pot and the pension charges taken out by logging in to your online account. If you've not logged in before, you can quickly activate your account here.
Read more about Nest's charges.
Making transfers into Nest
As well as making regular contributions from your salary you can also transfer money into and out of Nest. This means you can bring your pension pots together, making your savings easier to manage.
Our contribution charge doesn't apply on transfers into Nest. Just remember that our 0.3% annual management charge is based on how much is in your pension pot, this includes any funds you've transferred in.
We also don't charge for transfers out but it's important to check if your new pension provider has fees.
Taking a break
You can take a break from paying contributions at any time. There are two ways you can do this:
Log in to your online account and let us know. We'll then tell your employer so they can stop taking money from your pay.
Ask your employer directly to stop taking contributions. Just remember that if you take a break from making contributions then you'll miss out on contributions from your employer and tax relief too.