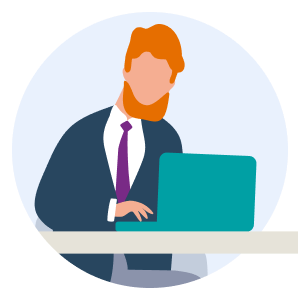 We want employers like you to feel confident in understanding and following auto enrolment legislation, so we break it down and make it easy for you.
The legal background
Employers in the UK have to meet workplace pension requirements under the Pensions Act 2008. This includes automatically enrolling certain staff into a workplace pension and contributing towards their retirement.
The Pensions Regulator (TPR) is responsible for making sure that employers meet their duties.
Does it apply to every employer?
If you're a UK employer that employs one or more workers, then the legislation applies to you.
What your legal duties are
Your duties start on the day your first employee begins working for you. You then need to set up your pension and enrol certain workers within six weeks of your duties starting.
Here's an overview of what you need to do, and when you need to do it:
Set up a workplace pension scheme
You have to choose a pension scheme that meets the auto enrolment criteria. TPR can help you with this.
Nest is a qualifying scheme – this means you can use us as your auto enrolment workplace pension. See why over 900,000 employers have chosen to set up with Nest.

When do I have to do this?
As soon as you can and within six weeks of your duties starting. This will make sure you have enough time to put the right payroll processes and systems in place.
Assess your workers
As a minimum, you have to assess all your workers and automatically enrol those who are eligible into your workplace pension. To find out if a worker's eligible, you have to check their age and earnings. We're here to help you understand who you need to enrol.

When do I have to do this?
You should do this on the day your duties start. You can push back the date you need to assess your workers by up to three months by choosing to use postponement.
Decide how much you'll contribute
The legal minimum contribution for eligible workers is 8% of their qualifying earnings. You have to pay at least 3% of this. You can pay more if you want to. If you just pay the minimum then your workers must contribute the rest, to make it up to 8%. A worker will get tax relief from the government on their contribution, if they're eligible.
We can help you understand more about contribution levels, tax relief and qualifying earnings.

When do I have to do this?
As soon as you can and before you start deducting contributions.
Enrol your workers and deduct contributions
You should now enrol your eligible workers – this will include deducting contributions through payroll and paying these to Nest.

When do I have to do this?
You have to start deducting contributions on the first payday after your duties begin. You must enrol your workers within six weeks of your start date. If you're using postponement, you can delay these duties.
Inform your workers
You have to give your workers some specific information about their pension scheme. Our communication toolkit can help you work out what you need to send.

When do I have to do this?
Within six weeks of your duties starting.
Tell The Pensions Regulator
You have to complete a declaration to let TPR know that you're meeting your duties.

When do I have to do this?
Within five months of your duties starting.
Manage your ongoing duties
Auto enrolment isn't a one-off process. You need to monitor every worker's age and salary to check if they're eligible to leave your workplace pension.
We've put together more information about what's required of you.
What happens if I don't complete my duties?
If you ignore your duties you'll face enforcement action from TPR. This could include:
compliance notices
fines
civil court action if you don't pay your fines
prosecution
If you're late meeting any of your duties you should tell TPR straight away. TPR can offer guidance and support that can help you put things right.