Find out more about transferring pots into and out of NEST
How our charges compare
NEST's charges are low, but we still give members an award-winning investment approach that carefully manages the investment risk they take throughout their time with NEST.
Traditionally, schemes that offer this level of sophisticated investment were only available to higher earners or members of large workplace pension schemes.
The smart operations and economies of scale at NEST mean that we're able to offer this to everyone.

Over a lifetime of saving with NEST our charges cause less drag on performance than either a standard stakeholder scheme charging the maximum or a scheme charging a flat 0.5 per cent AMC.
This means our members will see more of their contributions in their retirement pot and see less lost in charges.
Helping you compare charges
In line with best practice guidance, we've set out our charges in one document to help employers compare charges between workplace pension schemes.
Read information on costs and charges (PDF)
Fees and consultancy charging
We don't allow consultancy charging from contributions or members' retirement pots. That means professionals can set their own fees for providing advice about NEST. And we won't charge you anything to use NEST Connect to help support your clients.
Find out more about NEST Connect
The effect of NEST's charges on future savings
One way of showing how charges affect future savings is through reduction in yield (RiY). This shows how much of the final return of a savings product is eaten up by charges over time.

The graph below compares the effect of NEST charges with the typical charges that apply to other pension plans over different periods.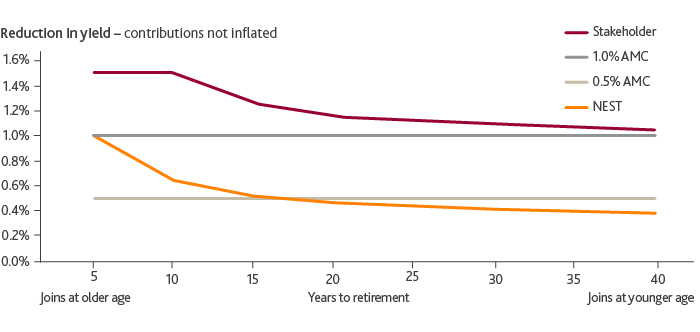 The graph is based on the following assumptions:
benefits calculated according to the Financial Services Authority basis
£50 contributions paid every month
average investment growth of 5 per cent per year
1.8 per cent contribution charge throughout the term
The graph shows that our charges are broadly equivalent to an AMC of 0.5 per cent.

Many types of saver would be slightly better off with NEST's charge level than they would be with a 0.5 per cent AMC, although some savers who are closer to retirement may end up paying slightly more.

Ultimately, the effect of charges on a member's retirement pot depends a great deal on how much and how long they contribute.
Find out more about how members can make a difference to their savings.