New pension rules
The Pensions Act 2008 introduced new rules for workplace pensions in the UK. These changes affect every workplace and make sure that every worker will have a chance to save for their retirement.
Under the new rules, every employer will have to give their workers the opportunity to join a workplace pension scheme that meets certain standards. Depending on how old they are and how much they earn, many workers will be automatically enrolled into the scheme. Other workers will be entitled to join the scheme if they want to.
Workers earning over a certain amount will also be entitled to a minimum contribution into their retirement pot. It's usually made up of money taken from the workers' pay, money paid in by their employer and money from the government, although employers can pay the entire minimum contribution themselves if they want to.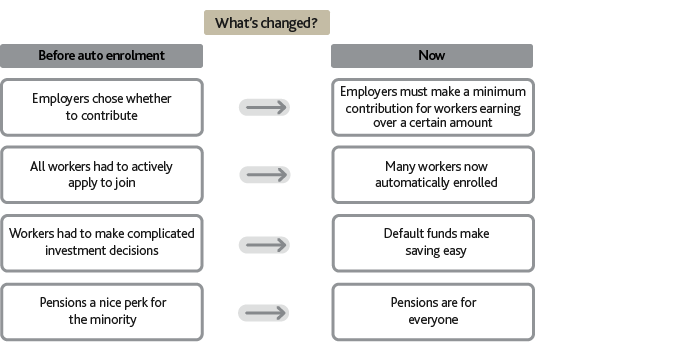 When will the new pension rules take effect?
The new employer duties are being introduced gradually. They've already begun to apply to the largest UK employers and over the next few years they'll apply to most other organisations. The minimum contribution has been introduced at 2 per cent of a worker's pay. This will rise gradually to 8 per cent.
The timeline below shows when different employers will be affected and how the minimum contribution will rise in the coming years. The dates for the increases to 5 per cent and 8 per cent are April 2018 and April 2019.