Transfer In
You can transfer into NEST at any time to bring your retirement savings together.
It's important to note that NEST only accepts certain types of transfer payments. It must be from a UK based-pension scheme that's registered with HMRC. It must also be made from one of the following:
A defined contribution scheme
This is a pension scheme where contributions are paid to build up a pot of money. The amount you get at the end depends on the value of the contributions and any tax relief that have been paid in, as well as any investment growth. NEST is a defined contribution pension scheme. This is different to a defined benefit scheme which aims to provide a specific income amount when you retire.
We don't accept transfers from defined benefit schemes unless they're early leaver cash transfers or pension credit transfers.
A pension credit transfer
This could be a portion of an ex-spouse or ex-civil partner's pension that's been awarded to you as a result of a pension sharing order, granted on divorce or the end of a civil partnership.
NEST won't accept a transfer amount that relates to a 'disqualifying pension credit'. This is a pension credit arising from divorce or the end of a civil partnership. It arises where the ex-spouse or ex-civil partner's pension to be shared was paid at the time the pension sharing order was awarded by the court.
An early leaver cash transfer
You may be entitled to this type of transfer from another workplace pension scheme, if you've been paying contributions to it for more than three months but less than two years. The value of the pot you're transferring needs to be more than £50.
If you believe you meet the above criteria to transfer in, you'll need to log into your account and click 'Transfer money into NEST' from your home page.
If you need to correct your details before you request the transfer, click 'Update my details'. You'll see your updated details straight away. If you need to correct details such as your date of birth, gender or name, you'll also need to send us proof of ID. You'll find more information on this when you click 'Update my details'.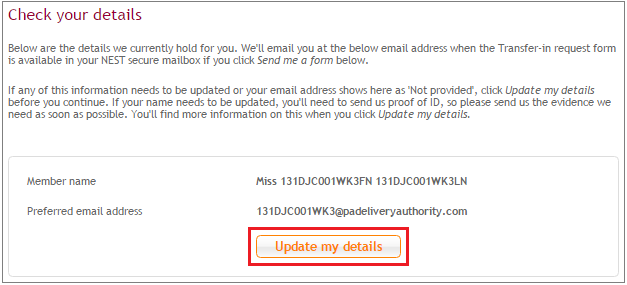 To request the transfer-in form click 'Send me a form'.
We'll send you a form either by email or by post, depending on your communication preference. Once you've completed the relevant form and received the required information from your other pension provider send it back to us at the address marked on the form.
We ask that your other pension provider add their details to the Transfer-in request form, however in some instances your other provider may provide these details in their own format instead of using our form. If they do this, please read through the information they've given you to make sure you want to go ahead with the transfer into NEST.
If you do, you'll need to read and sign the 'Member declaration' on our Transfer-in request form and send this to us along with the information your other provider has given you.
Transfer Out
You can transfer your money out of NEST into another pension scheme at any time after you've stopped contributing to your NEST retirement pot.
NEST won't charge a fee or penalty if you go ahead with the transfer. If the transfer is made out of your NEST pot, its value when you choose to take it will depend on a number of factors. These include:
how well your pot grows, although its value can fall as well as rise
how you choose to take your money out of the scheme.
The provider you transfer your NEST pot to may also deduct a charge when they receive the transfer payment from NEST.
Where you can transfer to
NEST can only transfer to a UK-based pension scheme that's registered with HMRC or a Qualifying Recognised Overseas Pension Scheme (QROPS).
The provider of the scheme will be able to tell you if it's a UK-based registered pension scheme or a QROPS.
To transfer your money out you need to click 'Take your money out' on the home page of your online account.

You'll then need to click 'Explore this option' in the Transfer your NEST retirement pot box.
On the next page, you'll need to click 'Send me a pack'. We'll then send you an information pack about transferring out of NEST.