You can use our CSV templates (ZIP) which will help ensure you enter the information in the right format and could save you time. You can use the enrolment CSV template to cancel the enrolment but you'll need to change the Process type to 'DE - For Enrolment Cancellation'. Alternatively you can create a comma separated values (CSV) file yourself. There's more information about how to do this in the Employer payroll guide (PDF).
Before you upload your file you can use the NEST file tester (ZIP) to see if the file has any formatting errors. Once you've prepared your CSV file you're ready to upload it to NEST.
To upload your file, go to the 'Manage Workers' area of your NEST online home page.
In Manage your workers, click 'file upload'.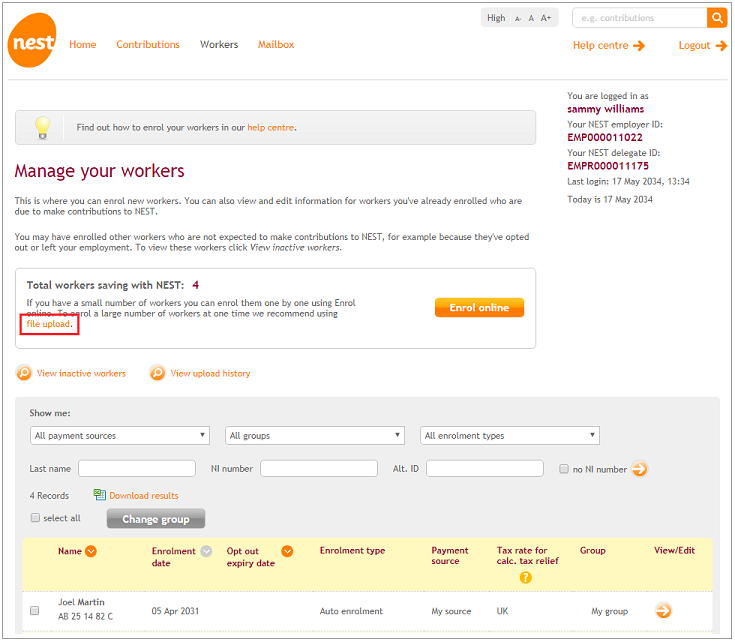 In Upload a file click 'Choose File' to find your file.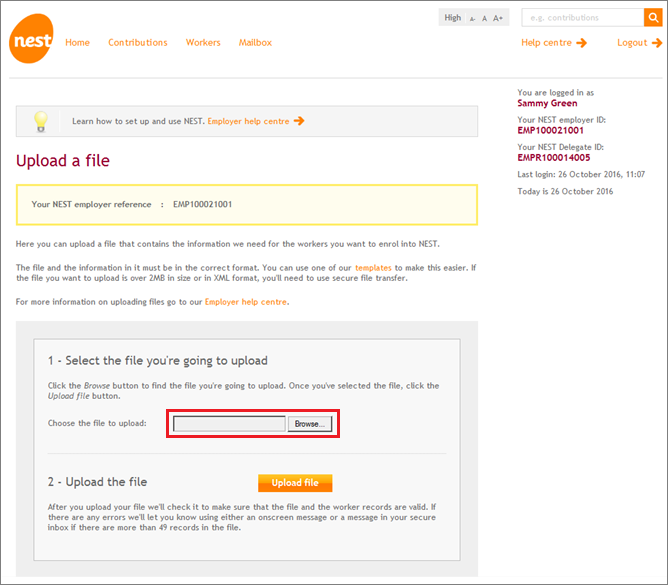 Once you've found your file, click 'Upload file'.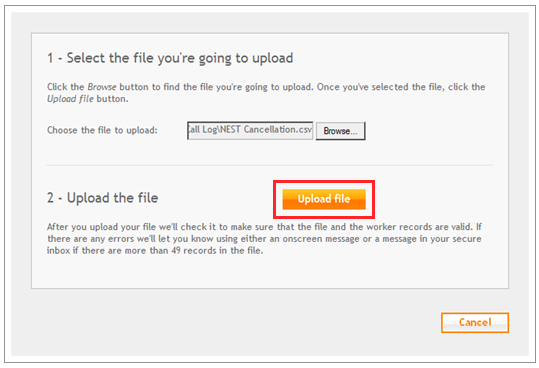 We'll check the file to make sure that it's in the right format and all information has been provided. You might find that a number of worker records pass while others fail this initial validation.
If there are any errors you can either click 'Cancel' and fix any errors before trying again or you can click 'Process the file' and correct any errors later.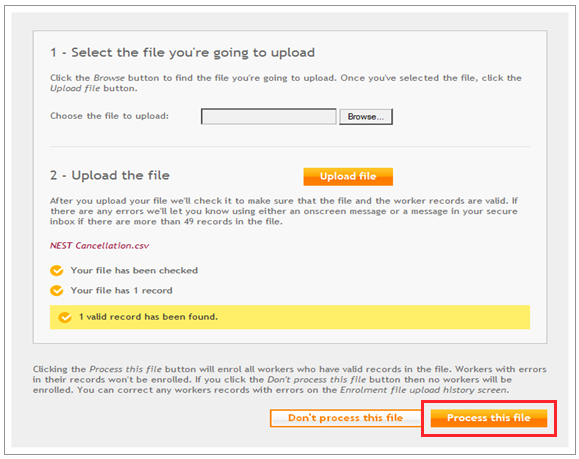 We'll then process and validate the file. The time taken depends on the number of workers included in the file.
It takes the same time to process de-enrolment files as it does for enrolments. You can find more information on processing times in How long does it take to process a worker's enrolment?
It can take up to five working days for a member's de-enrolment to be completed. We'll send a message to your secure mailbox telling you when enrolments have been cancelled and about any money to be refunded. You'll receive a refund if you've paid NEST any contributions for the member.
We'll also send an email to let you know these messages are waiting for you. In addition we'll send your worker a letter confirming that their enrolment has been cancelled.
You can use 'View upload history' from the 'Manage workers' area of your NEST home page to identify and correct any errors. For more information please see Fixing errors.