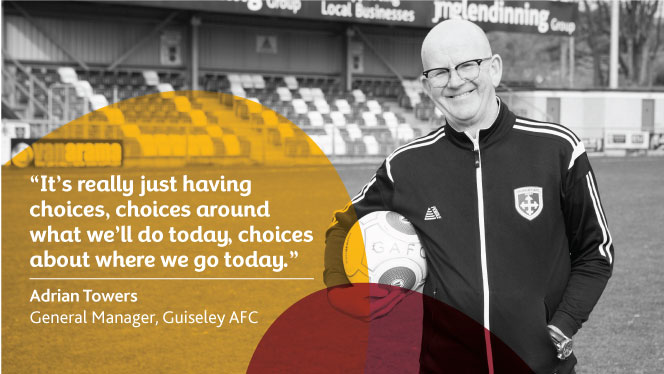 Adrian Towers, general manager, Guiseley football club
'We love traveling. So retirement will involve as much of that as we can sensibly afford'
Adrian Towers, (64), is the general manager at Guiseley football club, where he's worked for 16 years following a career in the civil services. He was enrolled into NEST two years ago and is planning to retire within the next two years.
Adrian believes that pension planning should be well thought through. His experience of NEST is that it's easy to use and allows him to keep an eye on how much he's got in his pot, which helps him and his family plan for the future.
Aiming to retire abroad, and continue to pursue his love of football, Adrian understands the importance of knowing how much you'll need to carry on doing the things you enjoy. He also feels strongly that he wants his family to be provided for should anything happen to him.
With NEST, he can see the value of his pot at the click of a button. And he believes it's particularly easy to navigate around, despite, he says, the perception that older people don't use websites. All of which makes it easy for Adrian to keep track of his pension savings.