Each time contributions are due you'll need to complete and submit a contribution schedule to NEST. A contribution schedule confirms the amount of contributions you're going to pay for each member.
There are four ways to submit contribution information to NEST:
Directly Online
Upload a File
Secure File Transfer
Web services – through your payroll software.
For more information on web services please see NEST web services for payroll integration. Here's a step-by-step guide for completing and submitting contribution schedules online for payment:

NEST generates your contribution schedules for you. To view your schedules go to the 'Manage contributions' area of your NEST home page. Here you'll find your contribution schedules due for payment.
You'll need to complete and submit the schedule to us before your payment due date. To do this online click the 'Edit/Pay' arrow next to the schedule you want to pay.

To complete the schedule online you can choose 'Copy schedule' or 'Enter new information'.
The 'Copy schedule' option will only be available if you have a previously paid schedule with the same payment frequency to copy from. This should save you time as it means you won't have to enter the same contribution information twice. If there is no previously paid schedule you'll see a message The option to copy your latest paid schedule isn't available to you.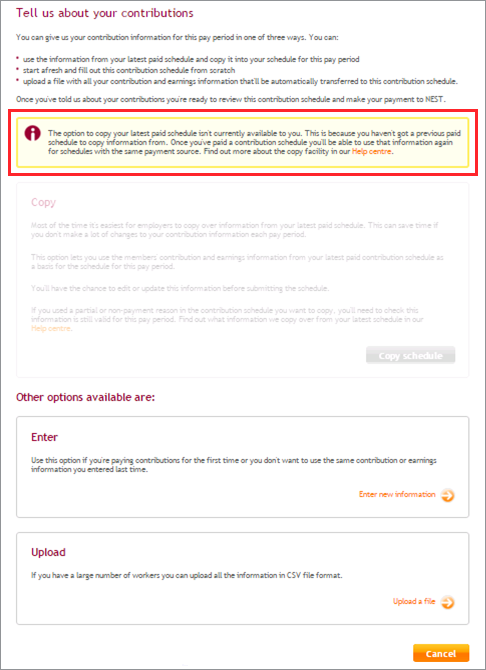 To start copying your previously paid schedule, click 'Copy schedule'.
The details of the schedule which is being copied will be displayed. If you're happy with the information click 'Copy schedule'.
This will copy the details of the previous schedule to the new schedule and you can make changes to the contribution details if required in the Pensionable Earnings field.
Then click 'Save changes' to save the information you've entered for the members and click 'Make payment' to submit this information.
You can also choose to submit the contribution information online by selecting 'Enter new information' option.
Your members will be listed on the schedule. You'll then, need to enter the contribution details manually. Once you've entered the contribution details click 'Save changes'. Then click 'Make payment' to process the payment for this schedule.

If you've got a lot of workers you want to send contributions for, you can select the file upload method to submit their contribution details and make payments. For more information on uploading a file please see Submitting contribution information by file upload
If you've entered contribution details for some members and there are no contributions for one or more members in the same schedule you can still click 'Make payment'. You must tick the box for Update all Action needed - Not yet validated members to insufficient earnings. Then click 'Yes, submit' and we'll enter the reason to update those members with no contributions due.
The payment process will vary depending on the payment type you're using.
Direct Debit - we'll process the payment automatically for you after you click 'Make Payment'.
debit card – you'll need to follow the online instructions to make a payment.
Once the payment is cleared and allocated for all members, the contribution schedule will move to the 'Paid schedules' area of your 'Manage Contributions' page.