In task 5 of the set-up process, select the 'Fortnightly' payment frequency.
We'll provide recommended settings for this pay period and automatically align it to the tax period. You can edit the recommended settings by clicking on 'Edit group' to keep any setting of your choice. If you're happy with the automatic settings click 'Save group'.
If you want to customise your set-up you can do so by selecting 'Customise set-up' and then click 'Add a pay period'.
Select 'Fortnightly' from the drop down list next to 'How often do you pay your workers?'.
As the 2017/18 tax year began on a Thursday, select 'Thursday – Wednesday'.
You'll also need to confirm when the current pay period starts by selecting one of the options from the drop down menu.
Two options will be displayed, based on the current date. The dates are formatted in the drop-down menu as 'Thursday [04] [05]'. This means Thursday 4 May.
The following table shows you all the fortnightly tax periods throughout the year that end on a Wednesday. Only one of these dates will appear on screen in the options provided - choose that one.
| | | |
| --- | --- | --- |
| 19 April | 3 May | 17 May |
| 31 May | 14 June | 28 June |
| 12 July | 26 July | 9 August |
| 23 August | 6 September | 20 September |
| 4 October | 18 October | 1 November |
| 15 November | 29 November | 13 December |
| 27 December | 10 January | 24 January |
| 7 February | 21 February | 7 March |
| 21 March | 4 April |   |
The last step is to choose a deadline for contributions. This is also known as your payment due date and is the date we'll expect the contributions to have cleared in our bank account. The deadline will automatically default to '9 days after' the pay period ends but you can change this to suit your organisation, up to a maximum of 22 days after the pay period ends.
By law your contributions need to have cleared in our account by the 22nd day of the month following the month you deducted contributions from your workers wages. That is unless you are holding on to contributions for them during their opt-out period. For more information on holding on to workers contributions until the end of their opt-out period, please see How can I hold on to contributions during a worker's opt-out period?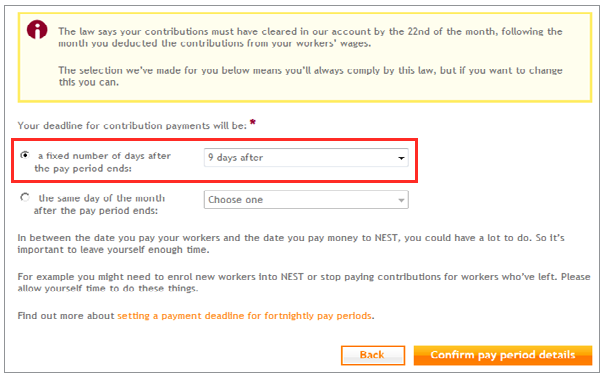 At the end of the tax year you'll have to create a new group for fortnightly pay periods based on the day of that week that 6 April falls on and transfer your workers to that group. In 2017 this starts on 6 April and ends on 19 April. The last contribution schedule won't cover the one day of 5 April.