If you wish to add a new group you'll need to click 'Manage groups' on your NEST home page.
Click 'Add another group'.
Then click 'Create group'.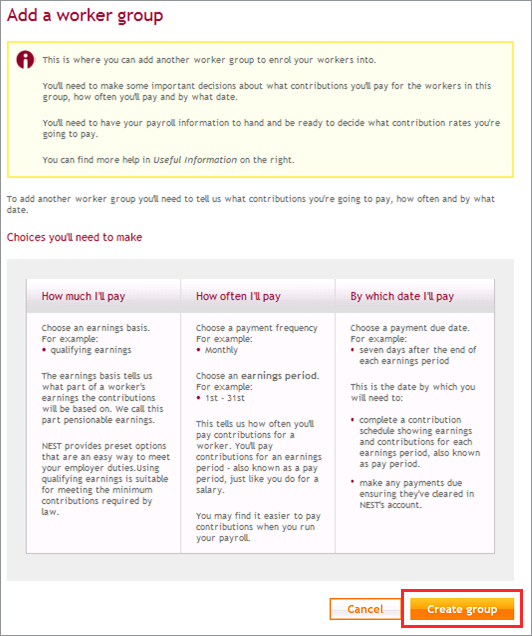 You'll need to enter the name of your new group and your contribution level and earnings basis. If you're using a payroll provider, please make sure these details match what's on their system when they exchange information with us.
You'll also have an option to enter maximum contribution rates. This gives you the flexibility to pay additional contributions for a worker if you choose. If you've set an upper contribution limit we don't expect you to pay the contributions up to the limit you've set. This can be useful if you or your workers sometimes want to pay more in the future without you having to change the upper contribution limit again.
When you set up a maximum contribution limit the system will automatically set it to 100 per cent. You can change it and enter another amount of your choice.
 For instructions on how to set a maximum contribution limit please see How do I pay more than the minimum contribution rates I've entered in my group settings?
Once you've told us which contribution rates you'd like to use we'll ask you to set up an earnings period, also known as a pay period, by selecting a payment frequency. 
The payment frequencies are monthly, tax monthly, weekly, tax weekly, four-weekly and fortnightly. When you select the payment frequency the screen will show a drop down list of options for how often you pay your workers, for example weekly. Choose one of the available options.

If you pay your workers differently, for example on a 4-4-5 basis please see Which payment frequency should I select if I have a 4-4-5 payroll? for more information.
Remember, you can set up more than one earnings period on your account if you need to. This could happen for example, when you have temporary weekly paid workers and permanent monthly paid workers. You'll need to create a new group for each different pay period.
Once you've selected the payment frequency, we'll ask you when your current pay period or earnings period is due to end. You should select the date that the earnings period that you're currently in ends. We'll use this to create your contribution schedules.
Please check this carefully before entering the information, as you can't change it once it's set up.
It's a good idea to check with your payroll provider which dates they're using. If your payroll provider uses tax month rather than calendar month, this would run from the 6th to 5th of the next month. Similarly, this rule applies to weekly frequencies.
For example, your payroll provider follows tax week rather than calendar week for 2017/18 tax year. This would run from Thursday to Wednesday as 6 April 2017 falls on a Thursday. This means the pay period, or earnings period, would be due to end on a Wednesday. You have an option to select a tax weekly or a tax monthly period. Please see How do I align my worker group to a tax period? for more information on tax periods.
Once you've chosen the earnings period end date an example will appear using the dates you've told us. This example will be based the current earnings period. You should check the example to make sure that it's correct.