Your rights as a worker
In the next few years most workers in the UK will get new workplace pension rights to help them build a retirement income.
If you earn enough and you're in the right age group, your employer will have to automatically enrol you into a workplace pension scheme. If they do, they'll also have to make contributions to your retirement pot.
If you're not automatically enrolled you may still be able to ask your employer to enrol you in a workplace pension scheme. They may also have to make a contribution to your retirement pot.
Your employer will write to you to let you know about your new workplace pension and whether you'll be automatically enrolled or not. If you fit into one of the three categories of workers shown below, then you'll be able to be automatically enrolled or opt in to a workplace pension.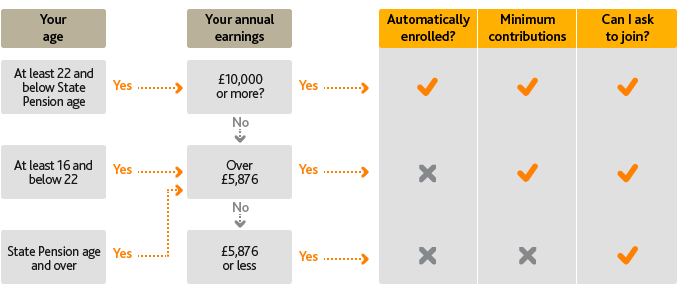 When will your employer enrol you?
Auto enrolment applies to different employers at different times. It started with the largest employers in October 2012. Over the next few years, auto enrolment will be extended to smaller and smaller employers until all employers in the UK have a workplace pension scheme that their workers can join. Your employer will let you know when they'll be enrolling workers.
Re-enrolments
If you're automatically enrolled and you opt out or stop contributing into your retirement pot, then you'll be automatically enrolled again around every three years, as long as you're still eligible. This means that you'll get more chances to think about whether it's the right time to start saving for retirement. You can check with your employer when their next re-enrolment date is.
Remember that small steps can make a big difference. The earlier you start, the more money you'll put into your pot and your savings will have more time to grow.