To set up your NEST scheme you'll need to create your online account and complete tasks 1-5 on the Setting up NEST page.
If you haven't completed all five tasks we'll save the information you've provided and you can come back and finish setting up NEST at a later date.
You'll be able to start enrolling your workers once you've completed your set up. Please remember you shouldn't auto enrol any of your workers before your staging date. The only time you'd enrol workers before your staging date is if you've decided to use NEST on a voluntary basis.
If you need to change any details within your payment sources or groups, we recommend you make any changes before you enrol your workers and finish setting up your NEST scheme. This will make sure you enrol workers with the right details and help to prevent errors.
Once you've completed tasks 1-5 and you're happy with the details you've entered just click 'I've finished setting up NEST' at the bottom of the page.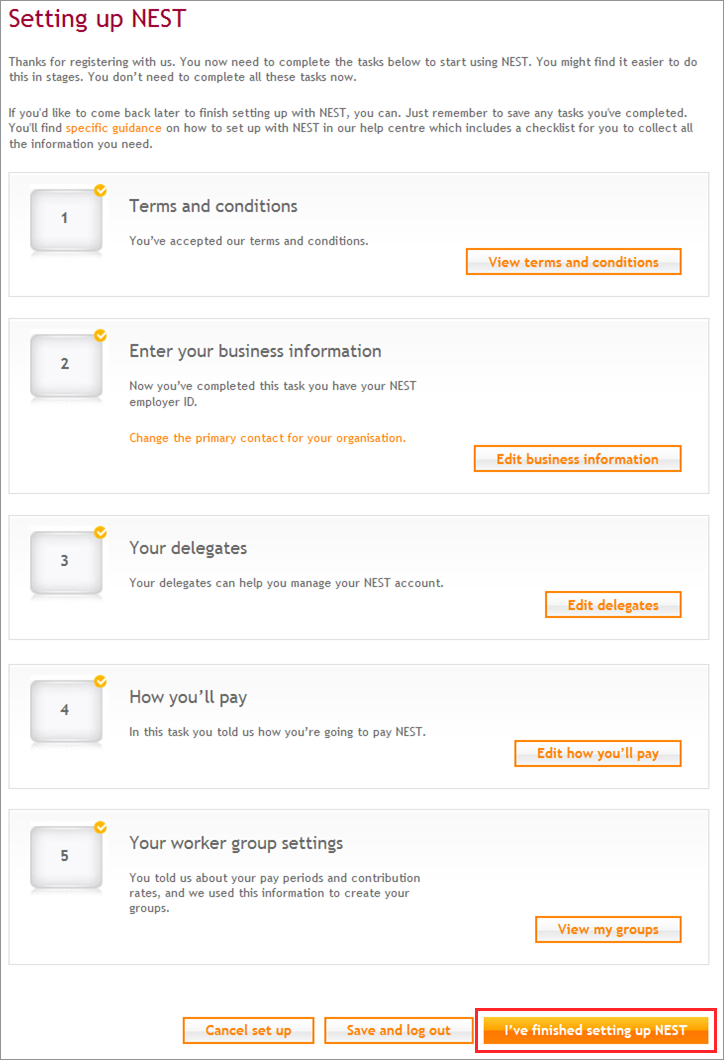 Only the primary contact or another full access delegate can click 'I've finished setting up NEST'. You can only confirm you've finished setting up if the terms and conditions in task 1 of Setting up NEST have been agreed to by the employers primary contact and the rest of the information has been completed. For information about our terms and conditions please see How do I accept the terms and conditions?
When you've clicked 'I've finished setting up NEST' we'll show you a message to remind you of your legal obligation to inform your workers that you're enrolling them into NEST.
Once you've read the information about informing your workers, click 'I confirm I'll inform my workers'.
If you'd like to know more about what you need to tell your workers, please see What should I tell my workers about using NEST?
Once you've confirmed that you'll inform your workers you'll be shown a page providing links to important information that will help you to get started. This includes information on assessing, informing and enrolling your workers.
For more information on enrolling workers, please see How can I enrol my workers?
If you're happy you understand your legal duties and are ready to begin, click 'My NEST home' and you'll be taken to your NEST online home page. You can find more information about your legal duties on The Pensions Regulator website.
Once you've clicked 'My NEST home' you've completed setting up with NEST. When you sign into your online account you'll be taken to your NEST home page.