You can add a nominated beneficiary on your account. This can be a particular person, several different people, your favourite charity or any other organisation you'd like to see benefit.

You can add or edit your nominated beneficiary by logging into your online account.
When you log in, click 'Edit your profile'.
Then click 'Nominated beneficiaries'.
You'll be able to see any current beneficiaries. If you'd like to edit any details of your current nominated beneficiary click 'Edit'. If you'd like to remove them click 'Delete'.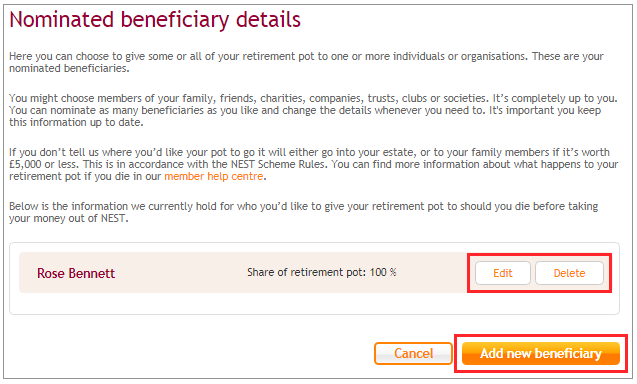 If you'd like to add a new beneficiary click 'Add new beneficiary'. You'll need to add details for your chosen person or organisation such as their name, relationship to you and their address. You'll also need to include the percentage of the pot value you'd like to give them.
If you'd like them to be the only beneficiary you can put a total of 100 per cent.
If you'd like to split the pot between multiple people or organisations, you'll need to make sure that you split the pot so that all percentages add up to 100 per cent in total.
Each time you add more beneficiaries you'll be able to adjust the percentages of each individual beneficiary.