Make sure you enter the name of your payment source, not the type. You'll need to enter the name of the payment source for all members on the file in cell D5. You may have created the payment source during your account set up and you can find it in your online account by clicking 'Manage payment sources'. The name will be at the top of the grey box and you'll need to make sure you type this into the cell exactly as shown in your account.
For example, the payment source shown below is called My source.
This is the name you'd need to type or copy and paste into the cell.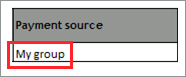 Date format – the date format should be in the Universal style of YYYY-MM-DD. Excel will usually re-format the numbers automatically if you enter them in a different way but if this doesn't happen, you can format the cells yourself.
Earnings period - 'start' and 'end' dates must match as with the payment source name, the dates you use must match exactly as shown in your online account. If the dates are even one day out the system will return with an error.
You might not know the total number of member records you're including until you've finished adding your member's details. It's fine to leave this cell empty until then. It's important to make sure the figure you enter matches the number of members added to the file.
If you're simply uploading contribution amounts for each member then you just need to complete columns A, B, D, F and G as shown below. If you do not have a National Insurance number for a member you'll need to enter their Alternative identifier in column C. If you need to let us know of any members who will not be paying full contributions please see Why would I make a partial or zero payment? for more information.

Tips on how to enter the information you'll need to include under 'Detail records':
Surnames – Make sure these are spelled correctly and match what's shown in the 'Manage workers' area of you NEST home page.
National Insurance (NI) number - make sure the number matches what's shown in the 'Manage workers' area of you NEST home page and there are no spaces between the numbers and letters. Employers sometimes copy and paste the information from 'Manage workers' and forget to delete the spaces.
Alternative unique identifier – only needs to used when there is no NI number present however, it needs to match what's shown in the 'Manage workers' area of you NEST home page.
Once all members have been added to the file, check all the details you've entered are correct and click 'Generate file' at the top of column B. This will highlight any points to note or errors for you to fix. You can correct these straight away. We'll highlight and explain how to correct errors within the file but if you need any more information, you can visit our error guide here.
Once the file is ready, clicking 'Generate file' will give you the option to save the file to your desktop or another easily accessible location. The file will save as a CSV rather than Excel file at this point and this is the version you'll upload.


Please see our Employer Payroll Guide (PDF) for detailed guidance to complete a contribution schedule CSV file.