If you've selected Direct Debit when creating a new payment source you'll need to tell us whether you have authorisation to set up the Direct Debit mandate yourself or not.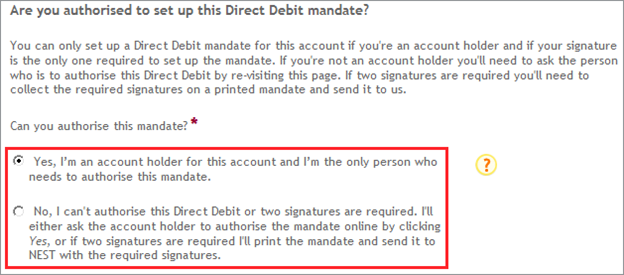 If you're the sole account holder, you can set up your Direct Debit mandate online. We'll give you the option to print the mandate you've created for your records and we'll send a copy to your secure NEST mailbox within approximately 24 hours of you setting up your payment source.
If you're authorised to set up the Direct Debit online it'll take six working days for the Direct Debit to become active.
If you're not authorised to agree the Direct Debit because you're not the account holder, you can ask the account holder to login to their NEST account and authorise the mandate.
If they don't have a NEST account you could add them as a delegate and ask them to authorise the mandate online through their NEST account.
If more than one person needs to authorise the Direct Debit you'll need to send us a paper mandate form with both signatures on it. You can print the mandate from the screen or from your NEST mailbox. We'll send a copy of the mandate form to your secure online mailbox within 24 hours after you've completed setting up your payment source.
There's no need to correct or change any of the information on the mandate. If you do make any changes it may void the mandate which could mean that we might not accept it.
Please send the mandate to Nene Hall, Lynch Wood Business Park, Peterborough, PE2 6FY. It'll take five working days for us to process the paperwork and then six working days for the mandate to become active.
Please note, you won't be able to make contributions from this payment source until it's active.
You'll also need to provide details of a refund account in case we need to return money to you. Refunds will be sent to the bank or building society account details you provided for paying contributions. If you wish to use a different account or payment source for refunds you can click on 'use a different account for refunds'.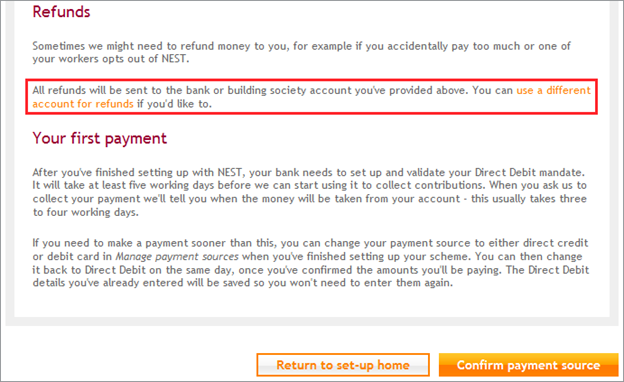 For more information on making payments by Direct Debit please see What happens when I've added all the contribution information to my schedule?