When editing a contribution schedule on the NEST website you'll see a summary box at the top of the page. This box contains:
the status of the schedule
total number of members in the schedule
the number of members records that require action
total payment amount due so far - for all validated member records
the 'Make payment' and 'Save changes button' buttons.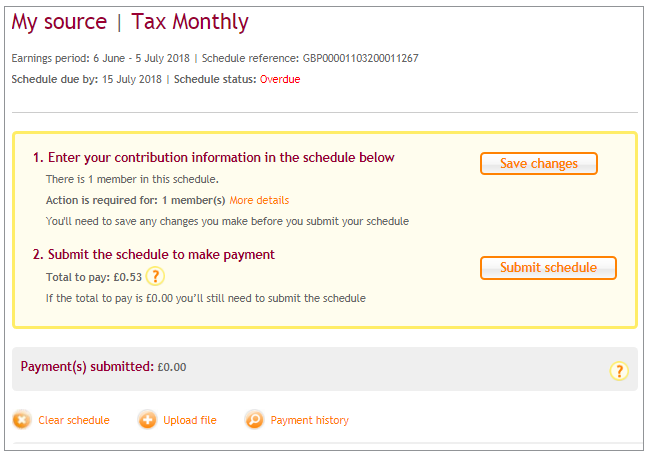 To save any changes you've made click 'Save changes'.
When you're ready to make payment for all validated member records in the schedule click 'Make payment'.
It's important to check if you need to take any action for members in the schedule.
Each member will have their own status to show if we're expecting a payment for them. To see the different statuses click on 'More details'.
You can filter members based on their status to see which members need your attention. If a member's status is Action needed – not yet validated or Action needed – invalid, you'll need to enter or amend their details in the contribution schedule. The schedule won't move to the 'paid' section if it contains any members with either of these statuses. Please see What does each member status in a contribution schedule mean? for more information.
Any members that aren't due a contribution need validating before clicking 'making payment'. Unless you tell us otherwise, we expect to receive contributions for all members included in a contribution schedule so you'll need to let us know if a particular member isn't due a payment. Even if all the members on your schedule have zero contributions, you'll need to click 'Make payment' to submit the schedule information to us. Please see Making partial or zero contributions for more information.
You'll need to make any changes necessary in the contribution schedule so that all members show as 'Member validated'. Once you've done this, click 'Save changes'.