Once you've clicked 'Make payment', our system will process the schedule to validate the payment details. The time taken to process the contribution schedule will depend on the number of records in your schedule. For payments made by Direct Debit please see How long will it take to process the payment? and for debit card payment please see How long will it take to process my debit card payment? for more information.
When we've finished processing your schedule, we'll expect to receive a payment for the members showing as Payment expected. We won't expect payment for any other member statuses.
You'll see an onscreen confirmation message explaining that we're processing the payment. The onscreen confirmation will also let you know exactly what amount will be collected from your bank account.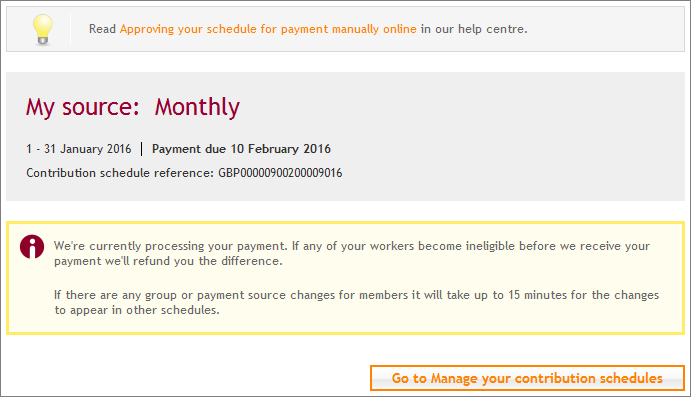 We'll send a message called Your contribution schedule for payment source: (name of payment source) to your NEST secure mailbox to confirm the amount we're taking. You can still complete outstanding information and make a payment for any members not already included in the payment submitted.
The payment can take up to five working days to clear into our account.
Please note there can be a delay if you're moving members to a different contribution schedule, for example if you've changed their payment source or group.