When you're setting up with NEST we'll ask you for some information about your organisation. This is covered in task 2 of the NEST set-up process.
Here's a step-by-step guide of the details we'll need:
the name of your organisation
number of workers in your organisation
your organisation's staging date or duty start date
your primary contact's details.
These are mandatory and marked with an asterisk. We've provided more information below on the information you'll need to give about your organisation.
The name of your organisation - This is your organisation's unique legal name as registered with Companies House or stated on a trust deed.

It's important that you enter the correct organisation name during set-up. If you wish to correct your organisation's name after you've set up with NEST, you'll need to complete a Change of organisation name form and send evidence to us. This form can be found in 'Edit your organisation's details under Organisation details section on your NEST home page. When you click 'Edit' you'll be able to see the hyper link 'Download form to change name of organisation'.
The organisation name can be a maximum of 160 characters in length. You can include most special characters within the name. Here's an example of some of the characters we'll accept as part of your organisation name: @ - ( ) [ ] ! \ / #.
Number of workers – You can select the number of workers from the drop-down menu provided. This should include everyone who works at your organisation at the time you set up with NEST, including full-time, part-time, temporary and contract workers. This information helps us identify the size of your organisation including any subsidiaries.

PAYE reference - This is issued by HM Revenue and Customs (HMRC) when you register your organisation to pay income tax for your workers. If you don't have a PAYE reference, click 'No'. You can also enter more than one PAYE reference if you'd like to.
Your staging date/Duty start date - This is the date by which your organisation needs to comply with your workplace pension duties. You'll need to tell us the correct month and year of your staging date. If you don't enter the correct date you may not be meeting your duties as an employer.
The Pensions Regulator (TPR) will write to you 18 months and 12 months before your staging date to make sure you know when it is.
If you've registered with HMRC as an employer on or after 1 October 2017 your staging date will be the date you employ the first worker in your organisation. You can find out more information on The Pensions Regulator (TPR) website.
You may choose to use a waiting period to delay the date you need to automatically enrol your workers into NEST and start making contributions. You'll still need to enter your original staging date or duty start date when you're using a waiting period.
If you choose to use a waiting period, eligible jobholders and workers with the right to opt in can still ask to join during this time. For more information on using waiting periods please see Can I delay auto enrolment?
Primary contact's details – The primary contact might not be the person who'll deal with the administration but someone who has the empowerment to make decisions about the scheme if necessary. For smaller organisations it'll often be the owner or manager.
In larger organisations it might be an HR director or a finance director. The primary contact must be someone from your organisation, not a third-party who is setting up or helping to manage your scheme. The primary contact will receive a copy of all communications from us but won't necessarily be the person who deals with the scheme day to day. The primary contact can delegate roles to other people who will receive copies of communications relating to their role. Please see What is a delegate? for more information on delegate roles.
You'll need to include the following details for the primary contact:
• title, for example, Ms
• name
• email address
• job title of the primary contact – this is optional
• phone number for the primary contact – we can't accept symbols like + or ()
• whether they're based in the 'UK' or 'non-UK'
• postcode of the address if the address is in the UK.
Please note, the first line of the primary contact's address can't be more than 80 characters.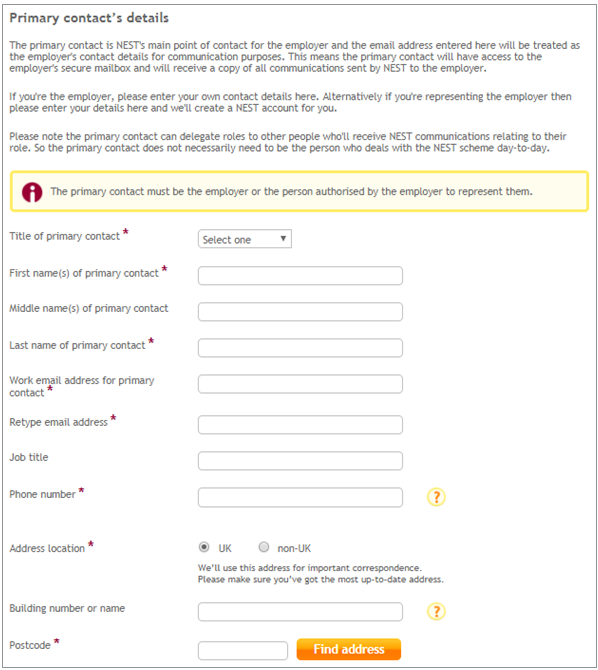 If you need to change your primary contact you'll need to add the new primary contact by going into 'Organisation details' from your NEST Home page.
You'll need to add the new primary contact to your NEST account before the existing primary contact leaves your organisation or changes roles. If a new primary contact isn't added to your NEST account, your organisation may not be up to date with important messages that we'd send you. Even an existing delegate on your account can become a primary contact.
To find more information about how to change your primary contact see How do I replace the primary contact when they leave my organisation if there are no other delegates on my NEST account?