We'll send the delegate a message to the email address you provided for them. It can take up to 24 hours for this email to be received. This message contains a temporary access code and a link to the area on our website where they can sign up for their delegated access. The delegate will have 28 days to accept the invitation.
When they click the link it will take them to our website. They'll need to enter their temporary access code along with the email address the message was sent to.
They'll then need to complete a security CAPTCHA box and then follow the instructions. Then click 'Next'.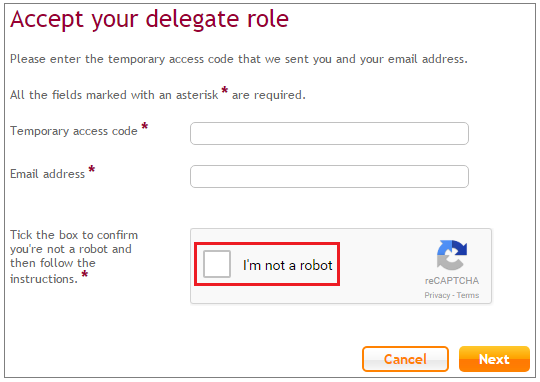 This will take them to the Accepting your delegate role page.
The delegate's title, name, relationship to your organisation and address will show in the greyed out fields which can't be changed by them. They can provide their telephone number and preferred email address on this page if they want.
They'll also need to create their login details on this page.
The username is automatically set to the delegate's email address but they can choose a different username if they want. They'll need to click 'Check availability' to make sure that another user hasn't already used it.
The PIN they choose must be made up of six digits. It can't include the same number more than twice and it can't be sequential, for example 123456. If the delegate does use the same digit twice it's important that they don't use these digits next to each other, for example XXX22X.
Once the delegate has created their PIN, they'll need to re-type it to confirm it.
They'll also need to create their password. It can be 6-20 characters long and needs to include at least one letter and one number. They can use each letter or number next to each other up to four times. They can also use special characters in the password if they want.
Passwords are case sensitive and can't contain any of the other account details like the delegate's PIN, username or email address
The next step is to choose three of the listed security questions and provide answers that are at least four characters long. The answers can't contain anything the delegate's used to set up the account, for example, their username, PIN, password, and first or last name.
Any delegate who already has a NEST account with another employer can merge them together so they'll have one username and password to access all their accounts. To do this they'll need to use the same email address on all their NEST accounts. Please see How can I merge my delegate accounts if I've already accepted the delegate roles separately? for more information.