You may need to stop using NEST for a few reasons. These could include:
your organisation is merging with another organisation and you're using another pension scheme to meet your duties.
your organisation has become insolvent. Please see How do I notify NEST of insolvency? for more information
you're going to use an alternate pension provider
your organisation is closing.
If you wish to stop your organisation from participating in NEST, there are a few things you'll need to consider. It's important that you seek legal advice and find out what obligations you'll have to meet before you stop using NEST. For example, some employers may need to inform their members before they change their pension provider.
You'll need to give us a minimum of 28 days' notice if you wish to stop using NEST.
To stop participating with NEST, the primary contact or a full access delegate can click 'Organisation details' from their NEST home page.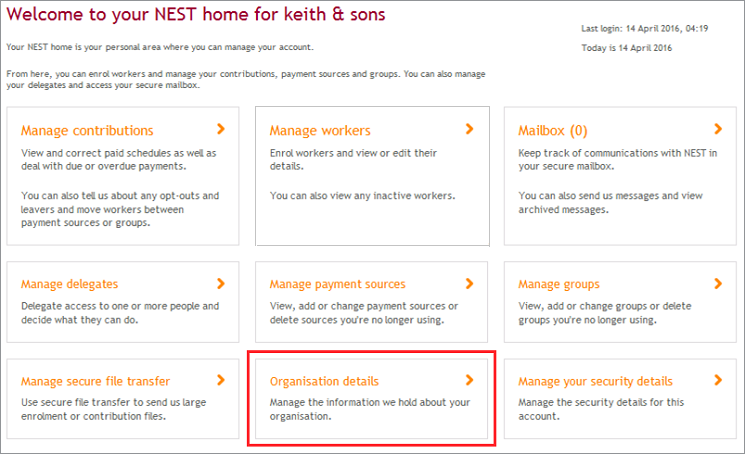 Then click 'Stop taking part in NEST'.
Once you've read the information on the screen, click 'Set a date to stop using NEST'.
You'll need to select a date that must be at least 28 days in the future. You'll also need to choose the reason for stopping using NEST and then click 'Confirm'.
A pop-up window will then appear asking you to confirm if you're happy with the date you've selected to stop using NEST. Click 'Yes, I'm sure. Close my account' to agree to stop using NEST from the date you've chosen.

Once you confirm you want to stop using NEST there's no way to stop the account from being closed on the date you've chosen. If you wish to use NEST again you'll need to sign up and set up your NEST account from scratch. This means you'll need to enter all your information and enrol all your members again.