You set up a payment source when you're setting up with NEST. A payment source tells us how you're going to pay contributions for your workers and where you'd like any refunds payments to go.
If you'd like to use a debit card to pay your regular contributions, you'll need to select this option in task four when you're setting up with NEST online. If you've already set up with NEST and you want to add a new payment source using a debit card you'll need to go to the Manage payment sources area of your NEST home page.
Using a debit card is only suitable if you're managing a small organisation. Ideally this should be twenty workers or less as using a debit card to make payment for a larger group of workers could result in delays.
If you're concerned this could affect your payments it may be better to use Direct Debit. Please see How do I set up a Direct Debit payment source? for more information on setting up a Direct Debit.
Please note we can't accept payments by cheque.
Once you've completed task two of the set up you'll see a confirmation screen with options to add delegates or add a payment source. Click 'Tell us how you'll pay' to continue setting up a payment source.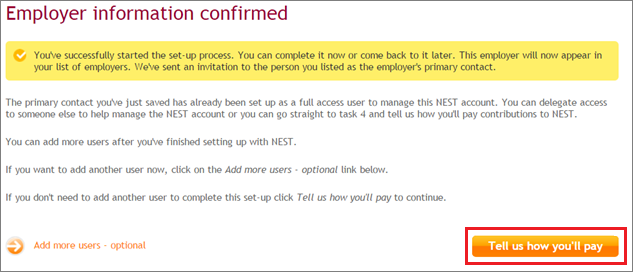 You can also click 'Tell us how you'll pay' during the set up process.

Click 'See all payment method options' and select debit card as the payment option.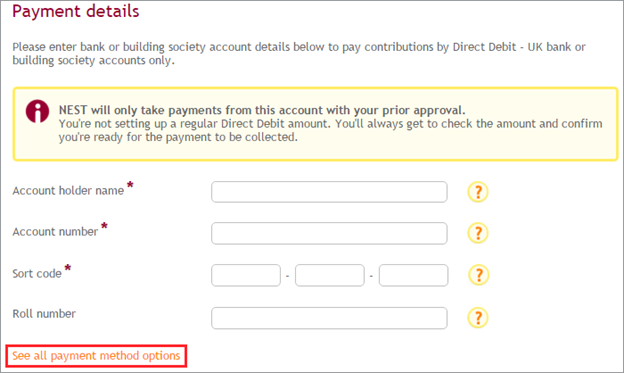 We'll ask you to give your payment source a name. You'll need to use this name in your future contribution schedule uploads. You can use a combination of letters and numbers but please make sure you're not using this name for another payment source.
If you're using a third party payroll provider, please make sure the payment source name you're using also matches the payment source name in your payroll software.
We'll set the payment source name to My source. You can use a different name to reflect the type of workers or group you'll use it for. For example, for weekly payroll, you could name the payment source 'Weekly Staff'.
Once you've given a name, select the debit card option.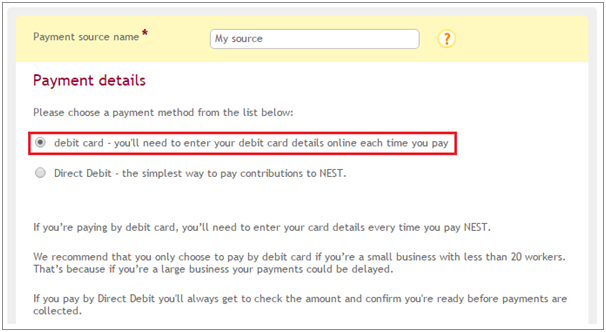 We'll ask you to give us details of the account you'd like us to send any refunds to. You'll need to fill out the information and click 'Verify account details'.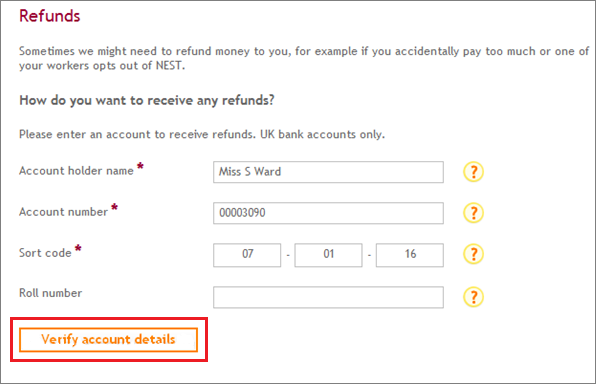 Please click 'Confirm Payment source' once you've filled in all the appropriate fields and verified your account details.