When you first set up your online NEST account, you'll provide contact details of a primary contact for your organisation. You can only have one primary contact for your organisation. This person is the main contact for your employer account. This primary contact might not be the person who'll deal with the day-to-day administration but it should be someone in your organisation empowered to make decisions about the scheme if necessary. For smaller organisations it'll often be the owner or manager. In larger organisations it might be a finance or HR director. The primary contact must be someone from your organisation. They can't be a third party who's setting up or helping to manage your scheme.
Once you set up a primary contact, we'll email them with instructions on how to register their NEST account. When they've accepted and registered their account, they'll automatically have full delegate access to your NEST online account. A full access delegate can manage all areas of the NEST account and will receive all correspondence about the account to their online NEST mailbox.
It's important that you keep all of your organisation details with NEST up to date including the details of your primary contact.
Before the primary contact leaves your organisation, you'll need to make sure that another primary contact has been set up to replace them. Please see How do I change the primary contact? for more information.
If they're the only full access delegate on the account and they've left your organisation before a replacement primary contact has been set up, you won't be able to add another primary contact online. You'll need to call us on 0300 0200 393 and request an 'Alternative delegate access nomination' form to add a new primary contact. You may need to do this if the primary contact is off work due to long-term sickness or has passed away. You'll be able to provide the name and full contact details of the new primary contact on the form, as well as the date when this change is to take effect.
Once you've received and completed the form you can send it back to us at:
NEST
Nene Hall
Lynch Wood Business Park
Peterborough
PE2 6FY
We'll process the form within five working days and set the new primary contact up as a full access delegate on the account. We'll email the link to register this account to the email address provided on the form for the new primary contact.
The link is valid for 28 days only from the date of us sending the email. If the new primary contact doesn't complete their registration within 28 days, the link will expire. If this happens you should call us on 0300 0200 393 and let us know so we can send you a new form.
When the new primary contact clicks on the link, they'll need to provide their email address and the temporary access code provided in our email and complete the CAPTCHA box. They'll need to tick the box to confirm they're not a robot and then follow the instructions.
Once they've completed this they'll have full access to the NEST account. They'll then need to add themselves as a new primary contact. As each employer account always needs a primary contact one can't be removed without having another in place.
To add a new primary contact click 'Organisation details' from your NEST home page.You can then click 'Edit your primary contact's details' and click 'New contact'.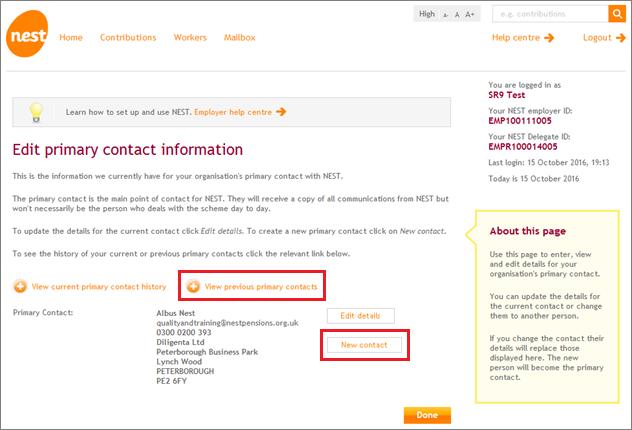 Once the new primary contact's details have been entered, the previous primary contact will be removed. They'll lose access to the account unless they were the initiator and set up the account in the first place. You'll still be able to view any old primary contacts in 'View previous primary contacts'.