Sometimes circumstances within your organisation may change meaning that an existing delegate may no longer need access to your NEST account. This could happen for example, if the delegate leaves employment with your organisation. You'll always need to have at least one full access delegate. Only full access delegates can add or amend individual delegates or delegate organisations. If you need to remove a delegate you can go through the following process:
On your NEST home page click 'Manage delegates'.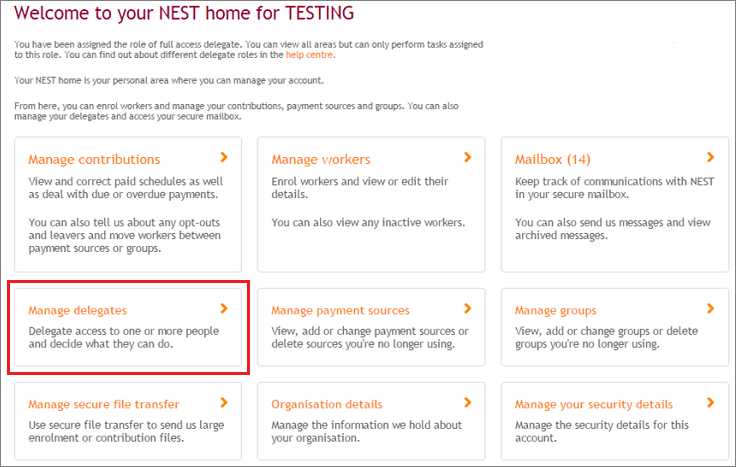 Next to the delegate you wish to remove you should be able to see a minus sign (-). Selecting this option will allow you to remove the delegate's access to your NEST account. Please note, you won't be able to remove your own delegate access or the primary contact's delegate access. Please see How do I replace the primary contact when they leave my organisation if there are no other delegates on my NEST account? for more information on removing the primary contact.
You'll be asked if you're sure you'd like to stop the delegate from accessing the account. If you'd still like to remove the delegate you can select 'Yes, stop access'.
The access for this delegate will be removed immediately and they won't be able to access your NEST online account.