Your secure NEST mailbox is where you'll receive and can store all communications we send to you.
Each person with access to an employer NEST account will have their own NEST mailbox and delegate ID. The types of communications they receive in their NEST mailbox will depend on their access level.
For example, a full-access delegate will receive all communications about the employer organisation account as well as their individual delegate account.
An enrolment delegate will only receive emails in connection to enrolments on the employer account they're assigned to and their own delegate account.
Examples of the type of communications you can expect to receive include notifications of when contributions are due and when members have opted out.
You can access your NEST mailbox through your online NEST account home page as shown below: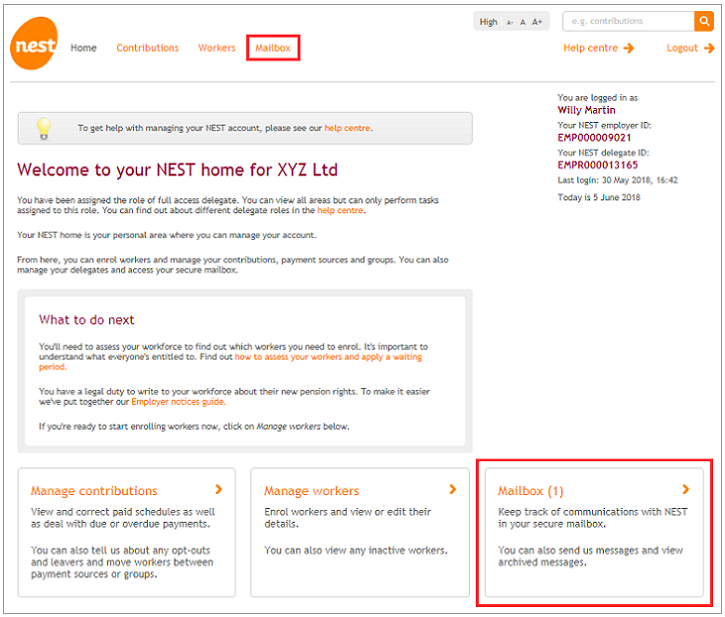 Your mailbox has six different folders. These are:
Inbox
Priority
Sent
Drafts
Archive
Trash
Once you've clicked 'Mailbox', you'll see all your messages are stored in date order, with the newest ones at the top.
You can change the way you view your messages to show the oldest ones first or by showing the message subject in alphabetical order.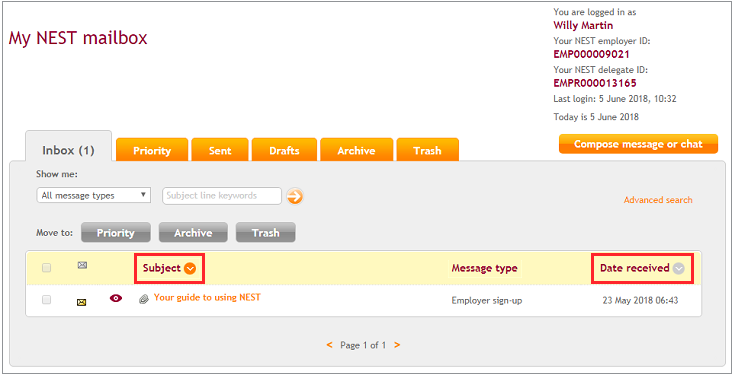 You can also search for the type of message you want to view by selecting the message type from the drop-down menu. If you've set up as a delegate organisation you'll have an additional option to search for messages relating to a particular employer you're connected to.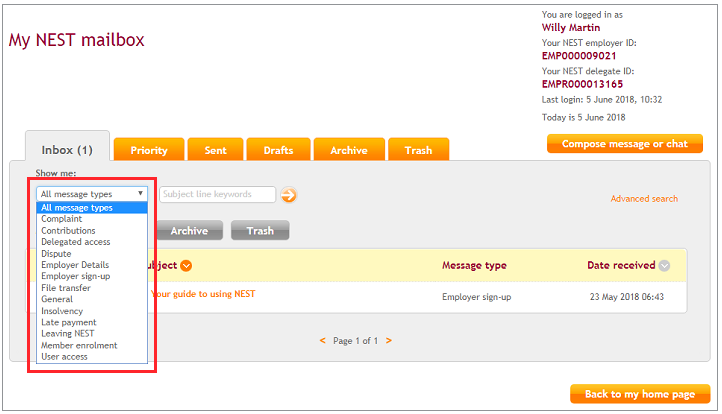 From the drop-down list you can select at the following message types:
complaint
contributions
delegated access
dispute
employer details
employer sign up
file transfer
general
insolvency
late payment
leaving NEST
member enrolment
user access.
You can also search for messages by their subject or keywords in the subject line. The search bar is located next to the message type drop-down menu. There's an the option to use 'Advanced search'. This will let you search for messages between two particular dates.