If you have a lot of workers to enrol at once you may choose to upload a file. You can enrol your workers by uploading a CSV (comma separated values) file through your online account. You can upload CSV files that are up to 2MB in size.
We provide templates to create CSV and XML files in Microsoft Excel which will help you to get your information into the right structure. It's important to complete the enrolment information using the set format otherwise we won't be able to process the file. You can find our templates and files in NEST CSV templates and XSD files (ZIP) or you can create your own CSV file if you prefer. If you're using a third party payroll provider, they may provide the files for you.
There's more information on how to create your own files in the Employer payroll guide (PDF) and you can test your files using the NEST file tester (ZIP) to see if there are any formatting errors.
You'll need to include a start date for each worker in the file. There's more information about how to work out start dates in What is the start date and enrolment date? Remember you'll need to tell your workers you are enrolling them in NEST before you can enrol them. You can find out more about this in What should I tell my workers about using NEST?
To upload your member enrolment file, go to the 'Manage Workers' area of your NEST online home page.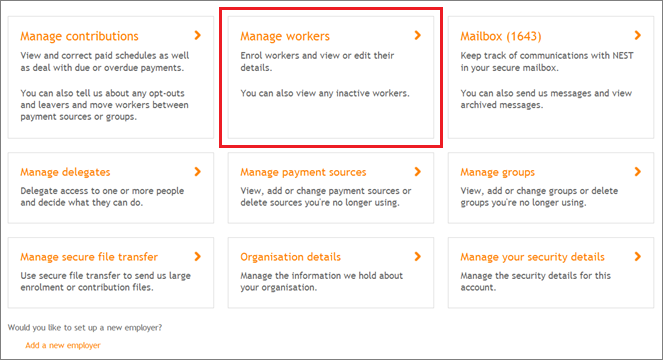 In Manage your workers, click 'file upload'.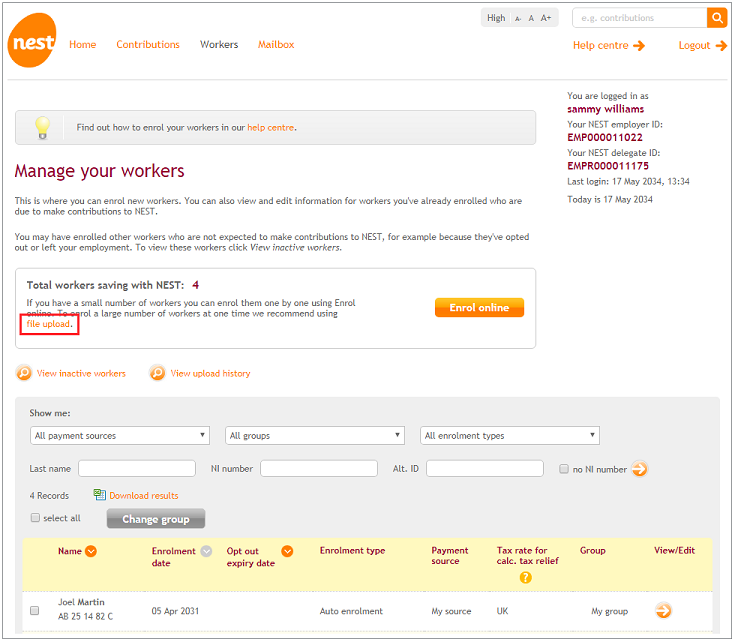 Then click 'Choose File' to find your file.
Once you've found your file, click 'Upload file'.
We'll check the file to make sure that it's in the right format and all information has been provided. You might find that a number of worker records pass while others fail this initial validation. Click 'Process the file' to send the file to us.
If there are any errors you can either click 'Cancel' and fix any errors before trying again or you can click 'Process the file' and correct any errors later. To know more about fixing errors, please see How do I correct errors in the CSV enrolment file?
We'll then process and validate the file. The time this takes will depend on the number of workers included in the file.
You can upload larger CSV files and XML files using Secure File Transfer Protocol (SFTP). Please see How do I send you worker enrolment information using file transfer? for detailed guidance. The SFTP method is more suitable for employers with a large workforce or those with systems already set up to use SFTP.