You can make changes to a worker's personal details within six weeks of their enrolment.
The details you can edit are:
name and title
address
date of birth
gender
National Insurance (NI) number
eligibility for UK tax relief
alternative email address
alternative identifier.
In the first six weeks of a worker being enrolled, we don't invest any contributions in case the worker wishes to opt out and we need to refund payments to you. This is the reason you can make certain changes within this period and not afterwards.
You can't change a worker's enrolment type, enrolment date and start date. To change a worker's enrolment type, you'd need to first cancel their enrolment and re-enrol the worker with the correct enrolment type. Please see What information do I need to de-enrol a member? to find out how to do this.
If you are changing a worker's eligibility for tax relief, it's important to make sure you check before changing the setting from 'No' to 'Yes'. This forms a declaration to us as required by HM Revenue and Customs. If you're changing a worker's tax eligibility from 'Yes' to 'No' we'll expect the full contribution amount from the worker as they'll no longer be entitled to tax relief.
If your worker has logged into their NEST account, or more than six weeks have passed since you enrolled them, you'll only be able to edit their National Insurance number, alternative identifier, eligibility for UK tax relief and group.
You won't be able to edit their name, title, address, email address, date of birth and gender. Workers will need to contact NEST on 0300 020 0090 and provide the necessary evidence to get these details changed or corrected.
To start editing worker's personal details please click on 'Manage workers'.
Here you can see the list of workers you've enrolled into NEST.
If the list goes over one page and you're looking for a particular worker, you can search for them by using the filter boxes for Last name, NI number or Alt. ID and clicking on the orange arrow.

Once you've found the worker you're looking for, click on the orange arrow under 'View/Edit' column.
On the next page you'll see the details we hold for the worker. Click 'Edit details'.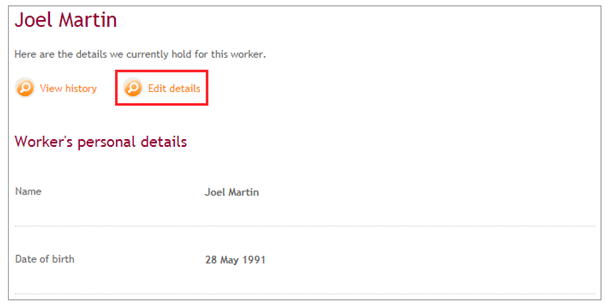 An 'Edit' button will appear next to the details you can change.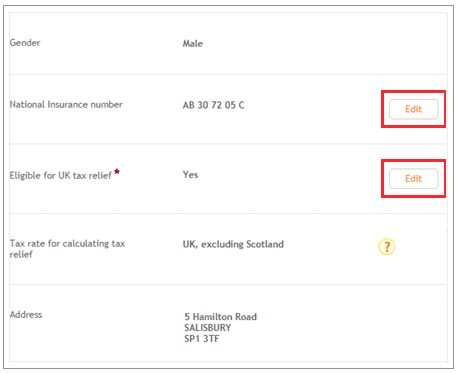 After each change click on 'Save'. You'll see confirmation of the change on the next screen and the worker will receive a message to their secure mailbox letting them know about the changes you've made.
When you update a worker's National Insurance number, you need to make sure that the number is in correct format.
Our Employer payroll guide provides more information on valid National Insurance number formats.