This method is particularly suitable if you don't have many members to make contributions for.
Click on either 'Contributions' or 'Manage contributions' from your NEST home page.
This will allow you to see all available unpaid contribution schedules. We'll automatically generate contribution schedules for you based on your payment source and frequency settings. Your first contribution schedule is generated once you've enrolled at least one member.
If more than one unpaid contribution schedule is listed it's best to start with the oldest one and work through but you can choose any one to start with. To go into a schedule click on the corresponding arrow under Edit/Pay.

If you haven't sent us information on the contributions for this schedule you'll see three options to choose from.
If this is the first time you've paid a contribution schedule you'll see a page with the options to Enter or Upload.
The option to Copy will become available once you've paid a schedule for this frequency and payment source.
Click the arrow next to 'Enter information online'. You'll see a list of all the members who are due to have information entered for this pay period, also known as an earnings period.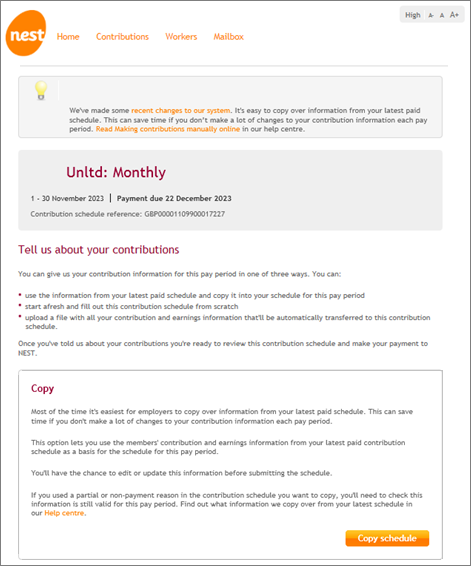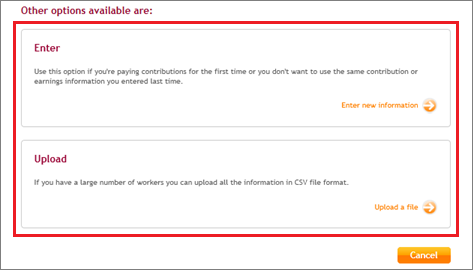 Above the list of members you'll see two boxes. The top one shows the payment source and frequency of the schedule, the pay period, payment due date and schedule reference number.

To the lower right of the status bar, you'll see an option to take a feature tour of the page. This will show you around the page and explain how to complete the required information.
The box below this shows the schedule status, the number of members in the schedule and the total payment due. The total will change as you save the contribution information you enter for the members. You'll also be able to see the status of the members here. Please see What does each member status in a contribution schedule mean? for more information.