To change a member's payment source and group at the same time, click either 'Manage contributions' or 'Contributions' on your NEST homepage.
Select the arrow under Edit/Pay on the contribution schedule you intend to use to change the payment source and group.
Find the member you need to move to the new payment source and group and select 'Options'. If you need to move all your members you'll need to complete the same process for each of them in the same schedule. This will need to be completed one member at a time.
Under Contributions options for this period select 'Change of payment source and group' from the drop-down menu. You'll need to enter the date you want the change to take effect. The effective date you choose needs to be within the schedule's pay period start and end dates. You'll also need to select the payment source and group you wish to move the member to.
You'll only need to enter the contributions that are associated with the member's current payment source and group. Any other contributions will need to be entered in the contribution schedule for the member's new payment source and group after the change has been processed.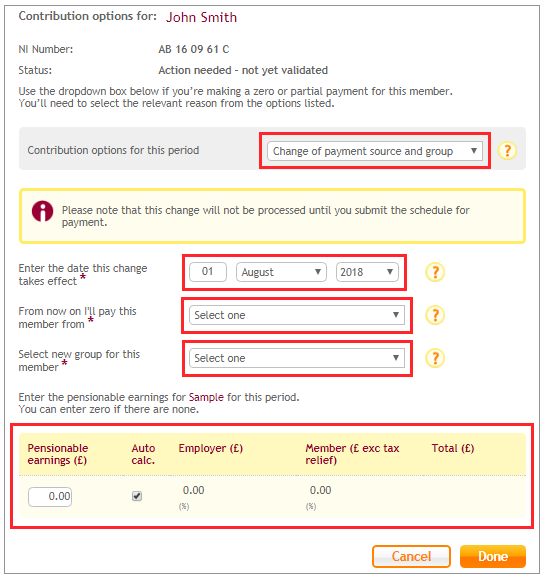 Click 'Done' when you've entered all the required information.
In the contribution schedule click 'Save changes'. Once all members in the schedule have their status as Member validated you can click 'Make payment' for the changes to be processed. The group and payment source change will only take effect when 'Make payment' has been clicked.