In task 5 of the set up process, you can either choose the recommended settings provided by us or you can customise the set up and make all the selections yourself.
If you want to use the recommended settings to align your pay periods to the tax month select 'Tax Monthly' from the drop down menu.
Settings to align your pay period to the tax month will be provided automatically. You can edit the settings by clicking on 'Edit group'. If you're happy with the automatic settings click 'Save group'.
To choose your own settings click 'Customise set-up' and then click 'Add a pay period'.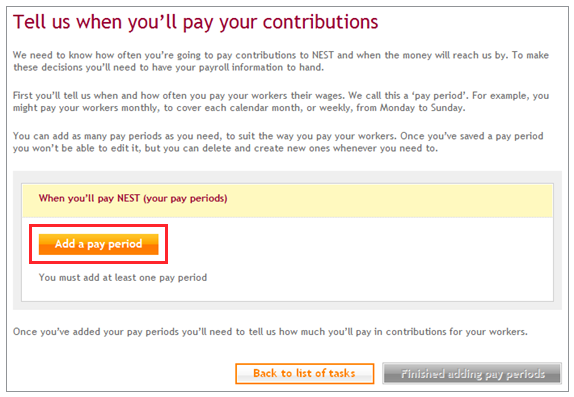 Click 'Tax Monthly' from the drop down list next to 'How often do you pay your workers?'.

We'll ask you how often you pay your workers, this is known as a pay period.
The last step is to choose a payment deadline. Your payment deadline is the date by which payments must have cleared in our bank account. You can select 'A number of days after the end of the current earnings period' or 'A particular day'.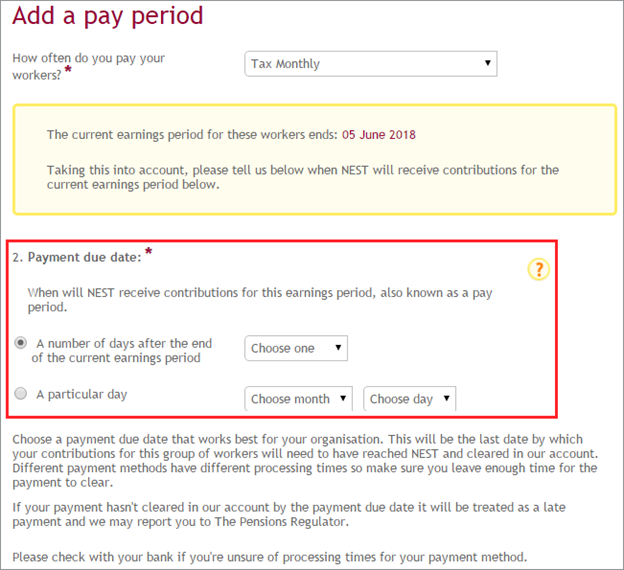 You'll deduct pension contributions from your workers' wages when you pay them. You'll then need to pay contributions over to NEST. You might have administration to complete between deducting contributions and paying them to NEST so you should make sure you leave yourself enough time to do this. However, you shouldn't hold on to contributions longer than you need to.
By law your contributions need to have cleared in our account by the 22nd day of the month following the month you deducted contributions from your workers' wages. That is unless you're holding on to contributions for them during their opt-out period. For more information on holding on to workers contributions until the end of their opt-out period please see How can I hold on to contributions during a worker's opt-out period?
Once you've chosen your payment deadline click 'Confirm pay period details'.