There are two ways to change the bank details:
you can edit an existing payment source
you can create a new payment source.
Editing an existing payment source
To change the bank details for an existing payment source click 'Manage payment sources' on your NEST home page.
Click 'Edit' on the payment source you want to change.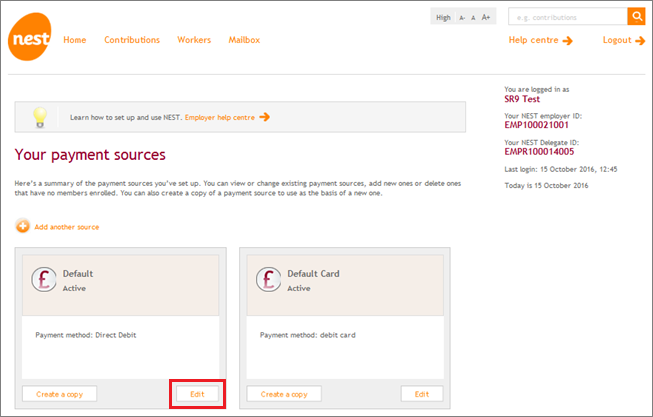 Click 'Change bank/building society details' to change the details you wish to use when paying contributions. You'll also be able to edit the account you'd like to use for receiving refunds.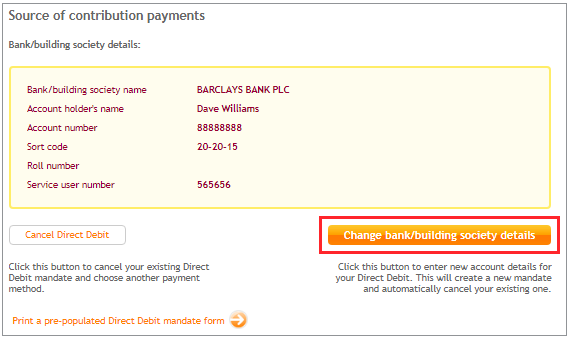 You can now enter the new bank details.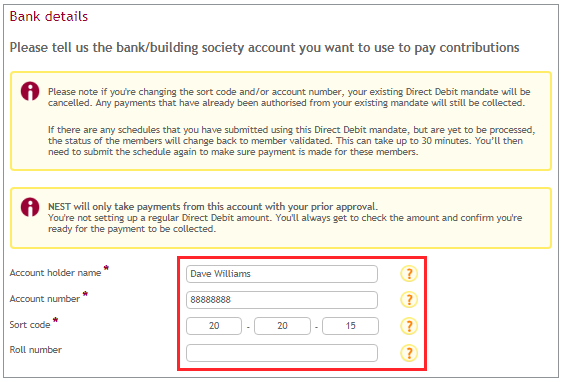 If you're authorised to set up the Direct Debit mandate you can select the option that states that you're the account holder. Then you need to click 'Done' and the changes to the bank or building society details will be saved. It'll take six working days for the Direct Debit mandate to be active.
If you aren't authorised to set up the new mandate, you'll need to ask the account holder to authorise this online.
If more than one person needs to authorise the Direct Debit mandate you'll need to send us a completed paper mandate form with both signatures.
To let us know that you're not authorised to set up a Direct Debit mandate, you'll need to select the second option and click 'Done'.
You'll then need to take a print out of the Direct Debit mandate by clicking 'Print Direct Debit mandate form'.
It'll take up to five working days for the paper work to be processed and six working days for the new Direct Debit mandate to become active.
To save the changes to your bank or building society details click 'Next' at the bottom of the page. It'll then take you back to Your payment source page.
Adding a new payment source
If you want to set up a new payment source please see How do I add a new payment source once I've set up with NEST? This is useful if you want the payments to continue with your current payment source while you wait for the new payment source to become active. You'll need to add your members to the new payment source once it's set up. Please see how do I change a member's payment source online or by CSV file upload for information on how to do this.