Charges explained
NEST is a great value pension scheme. We keep our charges low, charging just enough to cover the cost of looking after your money.
NEST charges
You pay a small percentage charge on each contribution that goes into your retirement pot. This contribution charge is set at 1.8 per cent. That means from each £50 you pay a charge of 90p and £49.10 goes into your pot.
There's also an annual management charge (AMC) of 0.3 per cent of your total retirement pot each year.
How it works in practice
If £50 is paid into your pot every month, the 1.8 per cent contribution charge would be £0.90 each month.
Over one year £600 is paid into your pot in total. This means that the contribution charge over that period would be £10.80 or twelve times £0.90.
So the amount added to your pot in one month would be £49.10. Over 12 months this would be £589.20.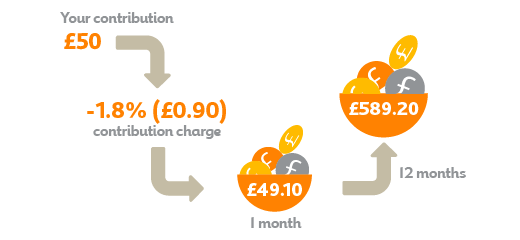 The 0.3 per cent AMC is taken from the total value of your retirement pot over the year.
So if your total retirement pot is worth £1,000 throughout the year the annual management charge would be £3.
That means the total cost for the year would be £10.80 + £3 = £13.80.